About Walter Alza
Award Winning Actor/Director/Writer/Producer
Walter Alza is a multiple time Award winning director/writer/actor/producer and entrepreneur. An industry veteran, a leading and crafted character actor with a career spanning over 20 years and hundreds of hours of screen time in the big and small screen, in titles such as Get Rich or Die Tryin with 50 Cent and Academy Award nominee director Jim Sheridan and Terrance Howard (Empire, Iron Man). You have seen Walter in Flashpoint; in the six time award winning show At The Hotel, Metropia (90 Episodes).

Walter just wrapped shooting Special Correspondent with Ricky Gervais (The Office), Eric Bana (Munich, Black Hawk Down, Hulk, Hanna, and Star Trek). (Kelly Macdonald Boardwalk Empire), America Ferrera (Ugly Betty).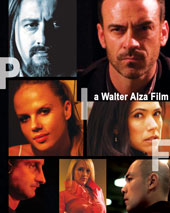 Walter Alza is currently developing various projects to shoot this year under his Award winning production company Alza 44films Ltd. Which is currently seeking association with other national and international partners. His goal is to continue to tell stories that matter, entertain and are heard at a global level, fiction, and reality based shows, and web.

Walter directed and produced the winner of the Best Foreign Film in Nevada Film Festival 2010 "Clive Houston, We Have a Problem" - an edgy comedy. Pay In Full, Walter's 2010 feature film debut was sold to 8 different networks across Canada including TMN, Rogers where it aired in Pay Per View and VOD and 7 other networks. PIF was chosen as the closing film of The Toronto Independent Film Festival and was sold out in all the screenings at the Reel world film festival. The film was sponsored by actra . His first film Redemption, Tears and Trains, garnered him critical acclaim from the media. As well Walter shares the winning of ten other awards. Because of his tireless efforts to portray diversity in his work, he won the Reel World Film Festival's Trailblazer Award in 2005 and the City of Toronto Award in 2006. His other films Open Your Eyes Katarina Premiered in The Official Selection of Ireland International Film Festival. It has since gone on to screen at film festivals around the world.

Walter Alza is also CEO of Alza Acting Studio, where he and the award winning faculty have been developing actors for over 10 years. Our Actors are currently working in leading, guest starring and principal roles in most of the major films and series been shot in Toronto and around the world. Our actors have gone on to win awards and light up the silver screens at some of the top largest festivals in the world, including Cannes, TIFF, Venice and hundreds of festivals around the world.

Walter has an extraordinary ability of bringing out the best performance from any actor. Walter has taught and or moderate at the Actra Conference (the actors union), at various film festivals (and universities), at Equity Showcase. Walter teaches also a few times a year the showcase at casting workbook.
"Walter Alza gives two powerful performances in Three and a Half as both the hot blooded Yugoslavian Igor and the quiet Italian workman."(screened at Sundance and Montreal Film Festivals)
"Walter Alza nails the part as a homicidal killer in 'Get Rich or Die Trying' " Produced by Paramount Pictures starring 50 cent, Terrance Howard and directed by six-time Oscar Nominee Jim Sheridan (In The Name of The Father).
"Walter is Canada's very own bad boy." (on Get Rich or Die Trying)
"…Alza is a scene stealer." (on Get Rich or Die Trying)
"Metropia rates 4 stars" (the only other 2005 show given 4 stars was CSI).
Walter plays the role of the modern don Juan, Andreas Maradona.
"Walter Alza is delicious as the testosterone - driven, boorish waiter Slavic."
Ken Finkleman's CBC series 'At The Hotel'. Co-starring Don Mackellar and Carlo Rota (24).
Walter has appears in hundreds of publication and tv shows in the USA and Canada.